Maginet



Maginet is a turn-based strategy game where two guilds of mages battle each other. You can play locally or online, on a PC or on your phone.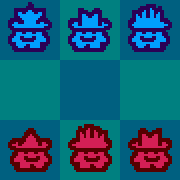 Mages can move to any of the adjacent tiles they are standing on.
After moving, they cast a spell with their individual pattern, damaging the enemies in its path.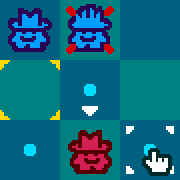 Once low on health, mages charge up, allowing them to travel to the adjacent diagonals too!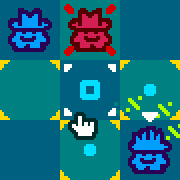 Mages have limited mana, once drained, they will go to sleep. You cannot move over a sleeping mage.


With local play, you can play on your computer or mobile device with a friend. Much like playing chess on a board, you can take turns by putting your device down on a table or share the mouse.


Playing with the AI-guild is a brilliant way to get accustomed to the game.
The AI-guildmaster is able to see ahead several moves, and is absolutely ruthless in strategizing against you.
If you think it's too strong, think harder about your next move instead


You can also play Maginet over the internet, that's where the net comes from!
By choosing the online option, you will be placed in a lobby. You can copy the lobby link by clicking the button at the bottom of the board.